Weekly update 22.01.18
Weekly update 22.01.18
23 January 2018 (by Northern House School (City of Wolverhampton))
A weekly update on what we have been up to!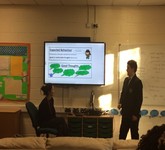 Rewards Assembly
In this week's Rewards Assembly, we celebrated the success of students at Northern House School (City of Wolverhampton). This week we handed out over 70 certificates for excellent work in class, positive mentoring and improved attitudes. A number of students were hat-trick heroes gaining 3 certificates but we had a number of students that achieved four or five certificates for their continued hard work throughout the week. Callum Ellitts, Oliver Daley, William Parker and Brandon Jones are among the students who gained four or more certificates. Well done to all of our young people for their continued hard work and determination. Keep up the Good Work.
On Friday 26th January, the Northern House School football team are playing a fixture with High Grange School. We wish them every success for this fixture.
Brandon's Presentation
Brandon Jones in Year 8 talked to staff after school on Monday about how he is coming to terms and learning how to control his emotions. He talked to all of the staff in a very mature manner and stated how he colour codes his emotions, what are his triggers and ways in which he deals with them. His presentation was very interesting and well presented. It was extremely well received by staff who will be trying some of the strategies in their classes.
Well Done Brandon. We are all extremely proud of your achievements!